Dnešním článkem bych chtěla navázat na nedávný článek o tom, jak nosit více barev, když máte nízký barevný kontrast. Na pomoc jsem si vzala sukni, jejíž vzor je složen hned z několika barev (viz. zvětšený obrázek). Můžeme na ní najít tmavě modrou, červenou, středně modrou, fuchsiovou, světle červenou a bílou. Z větší vzdálenosti to však není téměř patrné. Důvodem je to, že vzor je drobný. Podobná sukně se tak může lehce stát velice univerzálním a dobře kombinovatelným kouskem šatníku, protože bude výborně fungovat se kteroukoliv barvou vzoru.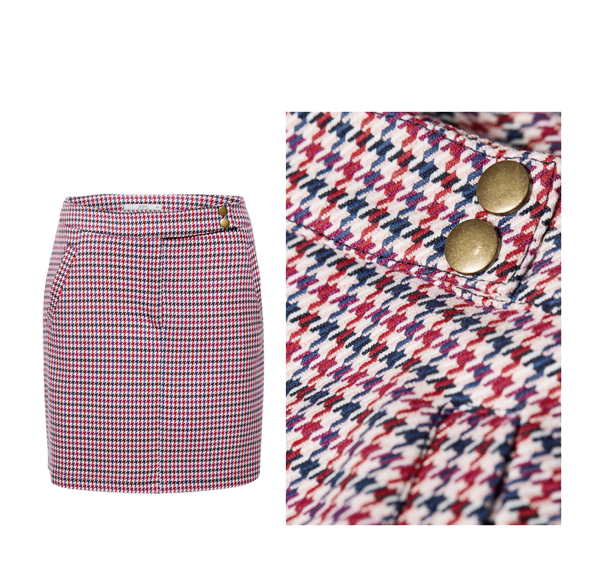 A jak to vypadá v praxi ?
S růžovou.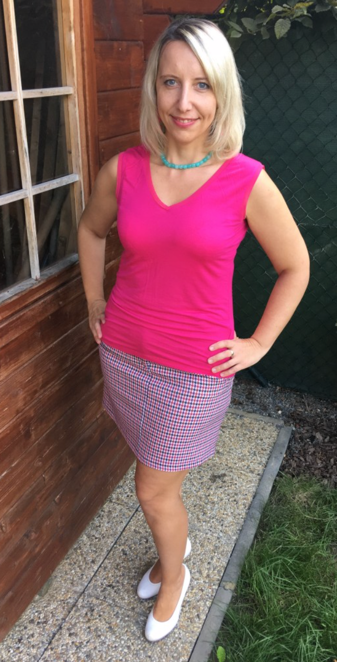 S bílou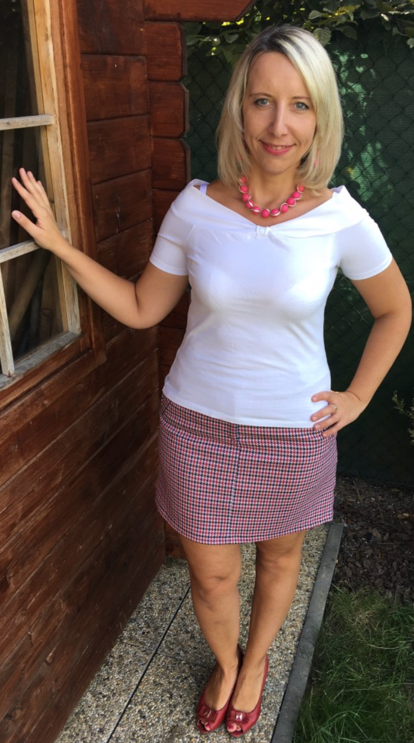 S tmavě modrou, která není zrovna moje top barva a následující triko mám v šatníku z dob dávno minulých. Ale je kvalitní a dobře sedí, takže nemám to srdce ani chut' posílat ho dál. Abych vyrovnala negativní efekt tmavé barvy, kombinuju ho s šátky ve vhodné barevnosti.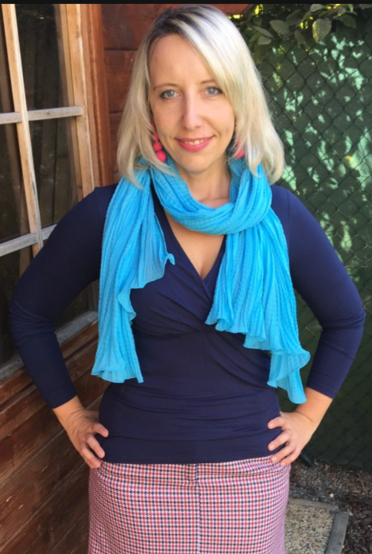 Se světle růžovou.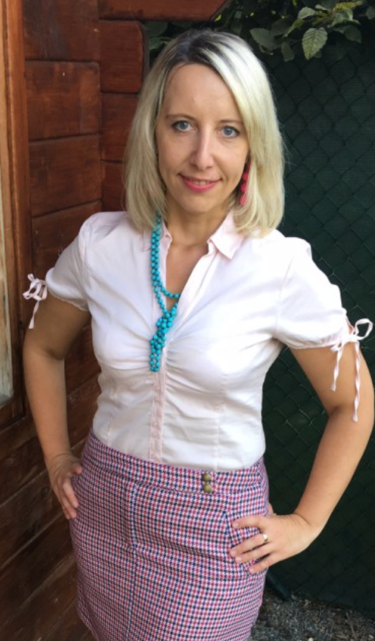 A kdybych měla v šatníku červené triko ( jakože nemám), šlo by to i s ním.
Další nespornou výhodou je, že sukně není ušitá z vyloženě těžkého zimního materiálu, ale má sympatickou střední gramáž a je vypodšívkovaná, takže se dá v pohodě nosit jak v létě, tak v zimě. Pohrávám si s myšlenkou, že pro vás v budoucnu nafotím i zimní verzi. Navíc je střižená do velmi mírné A siluety, takže v případě, že na horní polovině těla použiji nějakou výraznější barvu ( at'už v podobě halenky nebo nějakého doplňku) , můžu ji klidně nosit i s mými širšími boky.
Tímto článkem jsem chtěla tak trochu nabourat ustálenou představu o tom, že vzory jsou při vytváření outfitů spíše problematické, hůře kombinovatelné , a že vzorované oblečení není dostatečně univerzální. Může být, ale klíčem je vždy kombinace vaší barevnosti, barev ze kterých je vzor složen a barev na kterých je váš šatník vystavěn.