Pokud jste tak jako já malé, máte krátké – a nedej bože 🙂 – podsaditější nohy, asi znáte následující poučku: Nenoste kotníkovou obuv a nenoste boty s páskem okolo kotníku, protože vám opticky nohy zkrátí ještě víc. O tomto tvrzení se nedá pochybovat. Ale pokud jste stejně jako já k těm krátkým nohám dostaly do vínku ještě úzký kotník a chodidlo, asi vám následující situace nebude cizí.
Letos na jaře se mi hrozně líbily šedé lodičky mé oblíbené značky. Jelikož jsou v současnosti v 50% slevě, rozhodnu se jít si je vyzkoušet. Vypadají skvěle i pohodlně, ale podle očekávání mně padají z nohy. Prodavačka se tajnosnubně usměje s tím, že mi ukáže jeden takový trik. Tak tam stojím a v duchu přemílám, jestli se bude jednat o patěnky, nebo půl vložku do boty. Bingo, jedná se o první možnost. Boty samozřejmě padají i po umístění patěnek. Čekám, jestli mně bude doporučeno vzít si o číslo menší, ale naštěstí ne, je to opravdu příjemný podnik. Možnost vzít o číslo menší, jsem zkusila jen jednou a bylo to nešťastné rozhodnutí. Já opravdu na délku potřebuji velikost 37, 36 mě tlačí do palce jako Doru Popelčin střevíc.
Jak tedy podobnou situaci řešit? Pásku kolem nohy se nevzdávejte, nemůžete se zkrátka během chůze přizabít.
Hledejte obuv v takové barvě, která je podobná (nebo alespoň stejně tmavá) jako vaše kůže: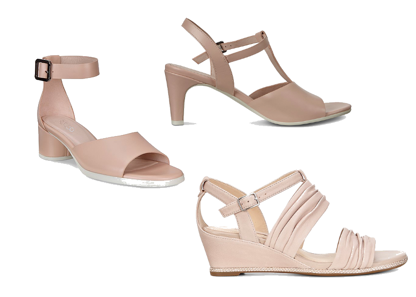 Co když jste ale tmavý typ, máte tmavé vlasy a potřebujete tedy i tmavou obuv?
Hledejte takovou obuv, která je celkově tmavá a pouze pásek přes nohu je světlejší: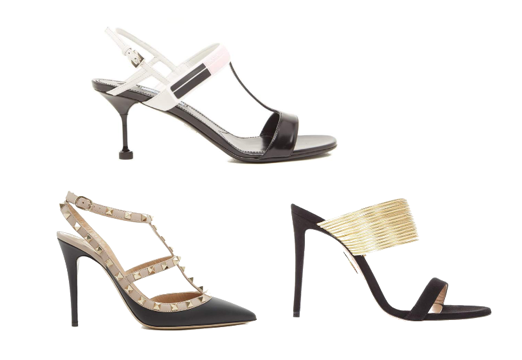 U mě nakonec letos zvítězily tyto střevíce, na které jsem narazila při psaní článku o výběru barvy bot :