V dnešním článku bych se chtěla zaměřit na to, jakým způsobem pracovat s motivy vzorů, strukturou a barvou látky při výběru oblečení. V každém kusu totiž můžeme vypozorovat tvz. mužský a ženský princip, nebo kombinaci těchto dvou faktorů.
Jaké jsou příklady těchto dvou principů a jak s nimi pracovat?
Primárně ženské jsou ty kusy oblečení, které mají měkkou strukturu, splývavou látku, různá řasení, která působí měkkým dojmem, světlé, případně tlumené barvy a vzory jsou velmi často tvořeny motivy květin, případně motýlů. Takový model může, ale nemusí nutně obsahovat všechny zmiňované prvky. Důležité jako vždy je, jakým dojmem jako celek působí :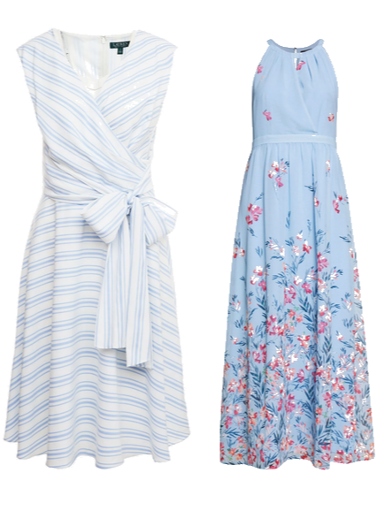 Pokud se v podobně ženských modelech cítíte stejně jako já v pohodě, pak je to v pořádku. Pokud byste se naopak někdy rády oblékly trochu víc žensky , ale takovéto šaty jsou na vás zkrátka moc romantické, je možné přidat kapku mužského principu.
Jak? Třeba geometrickým motivem vzoru. Následující šaty mají také ženský střih, splývavý materiál a jemné barvy, ale díky řádu, který dodává geometrický vzor, nepůsobí tolik romanticky.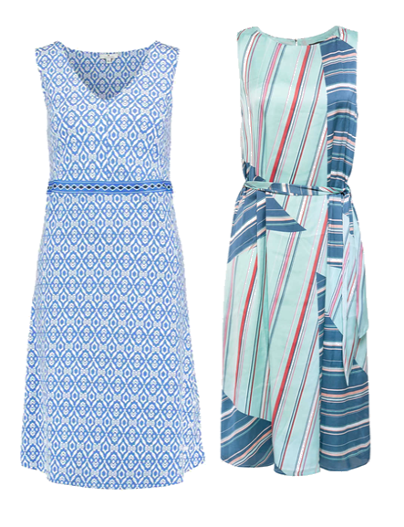 Pokud je vaše barevnost jasná, nebo potřebujete vyšší tmavostní kontrast a chcete působit žensky, můžete s těmito principy pracovat opačně. Silné, jasné barvy , či vysoký tmavostní kontrast zastupují mužský princip. Pokud je vaše barevnost potřebuje, můžete je začlenit a ženskost dodat pomocí vhodného střihu. Na následující koláži přináší jemnost a ženskost splývavé, měkké řasení u modrých šatů a rozšířená sukně v kombinaci se zavinovacím efektem a mašlí v pase u černobílých šatů: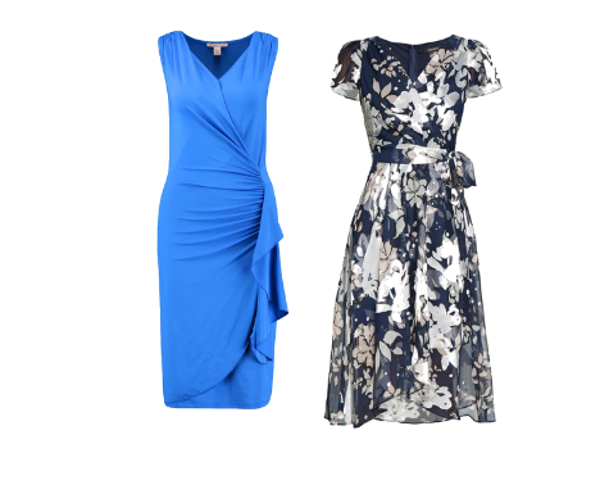 A jak by vypadaly šaty, které jsou tvořeny naopak mužským principem? Není to protimluv, když se bavíme o šatech, které jsou ze své podstaty přece ženské?
Podívejme se na následující koláže. Mužský princip je zastoupen vysokým tmavostním kontrastem, tmavými barvami, pruhy, které dodávají řád, geometrickými detaily střihu ( viz výstřih na šatech vlevo) a vertikálními liniemi ( viz šaty vpravo)