Do 25.5 budu mít dovolenou. V mezičese může popřemýšlet, které 2 dvě věci by šly na následující koláži vylepšit, pokud chceme opticky prodloužit nohy :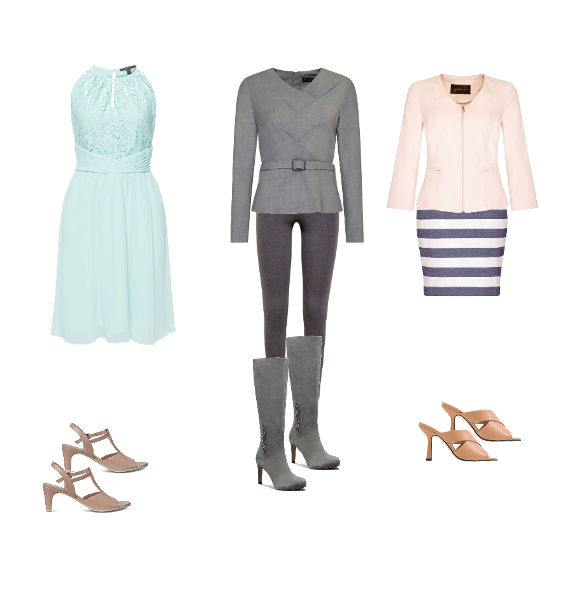 Vyhodnocení :

Po návratu z dovolené jsem si pročetla vaše odpovědi a toto byly nejčastější z nich :

1) Sjednotit barvu kozaček a legín

2) Svislé proužky

3) Vykrojené boty a ne ty s páskem okolo kotníku

4) Kalhoty / sukně s vysokým pasem

Správné jsou všechny úvahy, kdybych měla vybrat jen 2 vybrala bych jednak výměnu sukně, protože široké pruhy rozšiřují a opticky zkracují nohy současně. Pokud chcete nosit horizontální proužek, pak co nejtenčí, s co nejmenšími rozestupy a nízkým tmavostním kontrastem.
Druhou věcí, kterou bych vypíchla jsou vykrojené boty typu klasická lodička. Tady je ovšem potřeba zmínit jeden velmi častý problém a tím je úzké chodidlo. Sama tento problém znám a různé patěnky a podobné triky přinesou jen dočasné zlepšení. Po chvilce povolí a bota opět padá….V tom případě je možným řešením tenký pásek okolo nohy a boty v tělové barvě ( tak, jak je to na koláži)

Sjednotit barvu kozaček a legín či punčoch je velmi dobrý trik, jak si opticky prodloužit nohy a nebo minimalizovat negativní dopad například kotníkové obuvi. Jsem si ale jistá, že celý šatník takto nesjednotíte. A pokud se o to pokusíte, bude to bud nuda a nebo děsná pruda :-). Pokud jsou kozačky v podobném odstínu, jako na obrázku, domnívám se, že to není špatné řešení. Pokud máte kratší nohy, je vždy lepší poohlédnout se po vysokých kozačkách a vyhnout se kotníkovým botám. Pokud potřebujete kotníkové boty, potom je dobré vrátit se k triku o sjednocení barev boty/punčoch/legín.

Vyšší pas a halenka dovnitř. Jednou z výhod současného trendu zastrkování halenek a triček je právě prodloužení nohou. Chápu ale, že to nemusí být řešení pro každého a že ne každý takto chce chodit 90% svého času…Pokud chcete halenku nahoru, je dobré , aby končila v oblasti pánevní kosti.
Baví vás podobné tipovačky ?