Dnešní článek naváže na předchozí článek o Meghan, ale tentokrát z jiného úhlu pohledu, protože Meghan má zajímavý typ postavy. Meghan je velmi štíhlá, ale nemá postavu I , ani ženské křivky X. Nejblíže má její postava k tělesnému typu H, ale je tak štíhlá, že ji můžeme nazvat buďto štíhlé H a nebo postava napůl cesty mezi H a I, jak se vám líbí víc…
No a to je právě hrozně zajímavé. Protože spousta pro H střihově zapovězených věcí na Meghan funguje. A nejen, že to na ní " nějak funguje" ona je v tom bombastická. Pojďme se podívat na některé z nich.
Zakasání, pásky, zdůraznění pasu a střední části těla, rozšířené sukně. Toto všechno jsou věci, které by měla žena s tělesným typem H upozadit. Pokud jste ale štíhlé, můžete si dovolit mnohem víc a pravidla se pro vás rázem mění na pouhý soubor doporučení.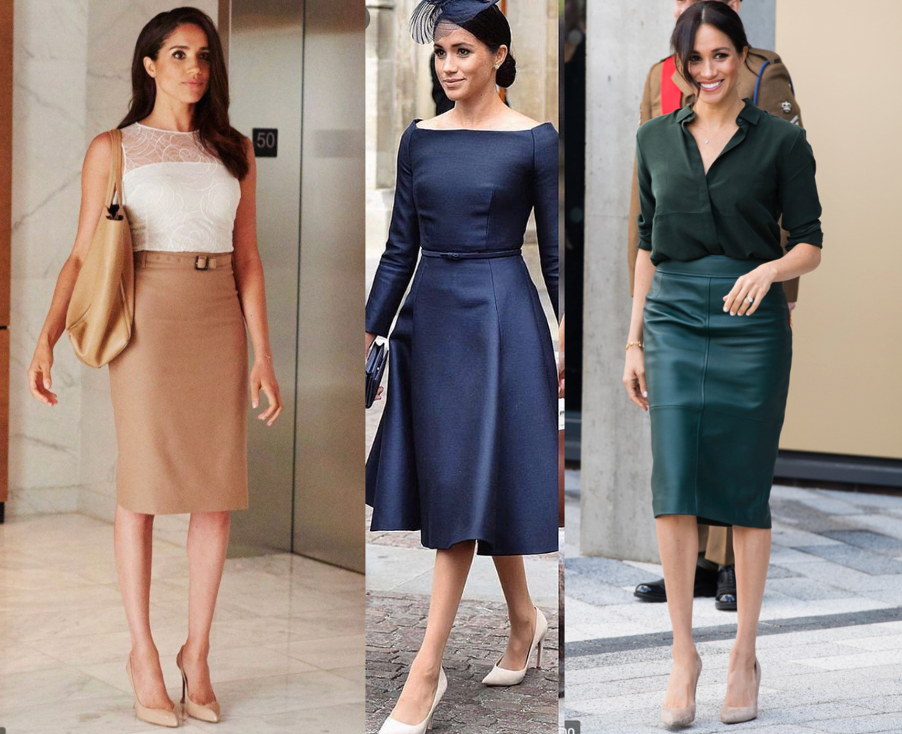 Na tomto místě by článek mohl klidně skončit, ale dnes ne. Dnes jsme si pro vás přichystaly ještě malý bonus. Jarka má velmi podobnou postavu jako Meghan, a proto jsem jí doporučila, že si ji klidně může vzít jako inspiraci. Jak to dopadlo?
Šaty s páskem :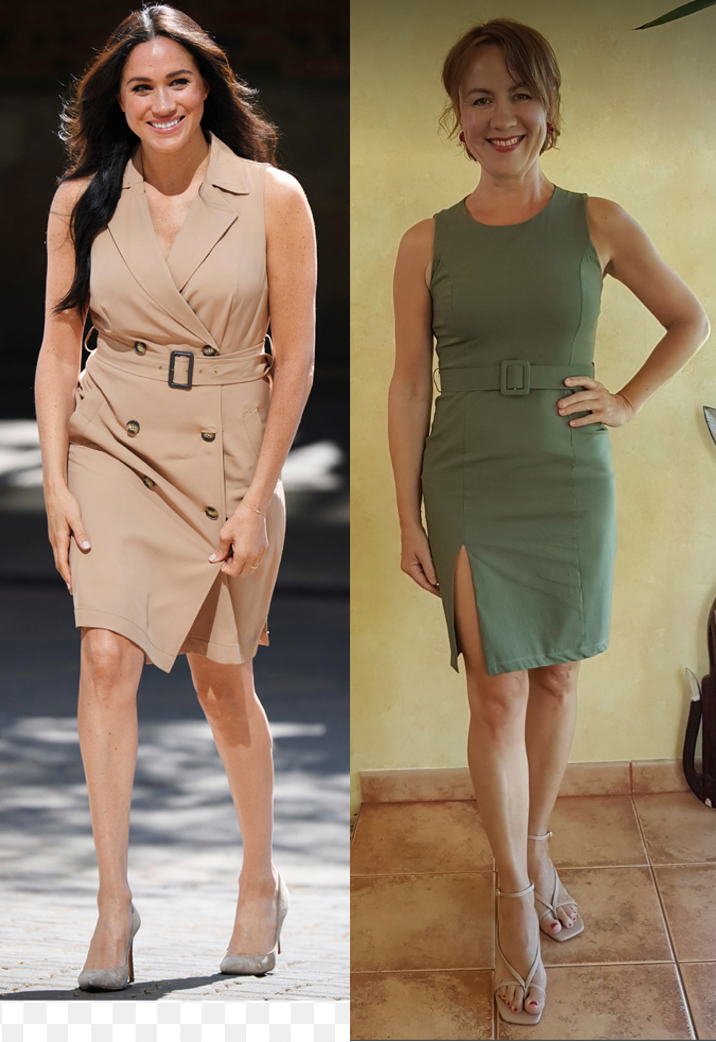 Zakasání :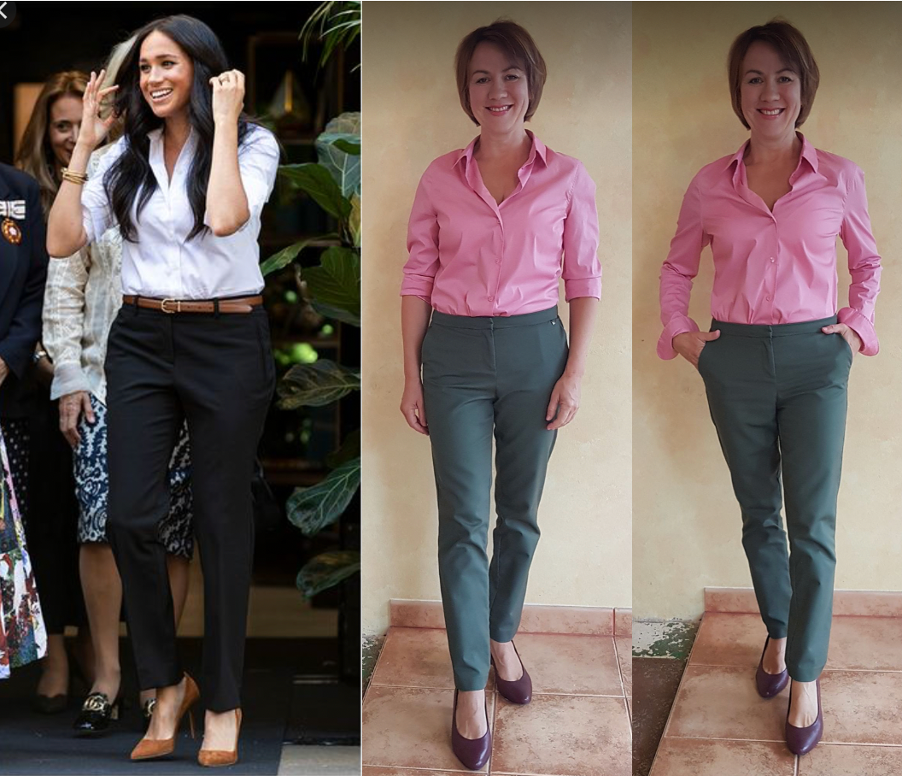 Overal :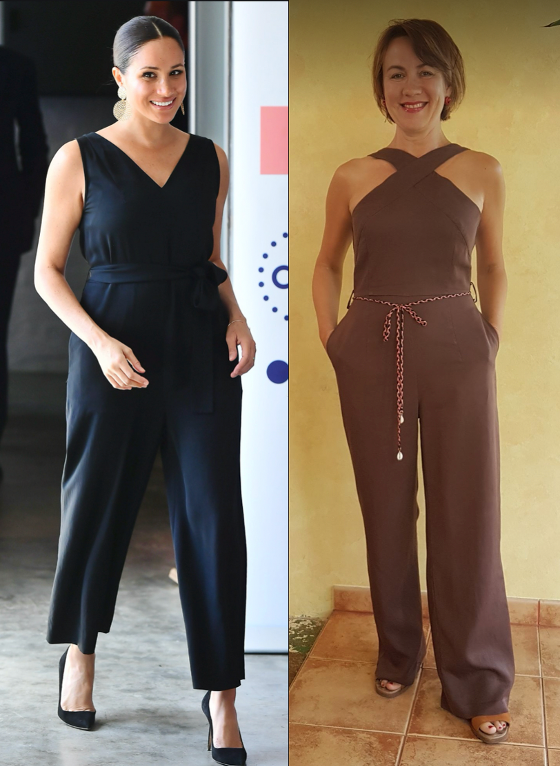 Co se mně osobně velmi líbí je to, že Jarka se inspirovala v dobrém slova smyslu. Ono je podle mě skvělé, že například u Meghan můžeme čerpat nápady i do běžného života a není na tom nic špatného, naopak. Ona určitě i Meghan měla svého módního poradce. Zároveň je ale vidět, že Jarka do svých outfitů vkládá i sama sebe, zde například v podobě jejích oblíbených barevných kombinací.
PS : Pro naše pravidelné čtenářky. Pokud vám vrtá hlavou, proč u Jarky v jednom z minulých článků zakasání nefungovalo a nyní funguje, tak odpověď je velmi jednoduchá. Košile nesmí být moc široká. Široká košile se v oblasti pasu nahrne vytvoří zbytečně velký objem a to nepotřebujeme.