Velmi častým důvodem, proč některé ženy téměř nenosí barevné oblečení nebývá ani osobnost, ani snaha o zeštíhlující efekt, ale pocit, že: "já to prostě neumím a nemám cit pro barvy". Pokud máte podobný problém, pak vězte, že pravým důvodem není pravděpodobně to, že byste barvy neuměli kombinovat, ale to, že se snažíte kombinovat barvy, které mají odlišné barevné vlastnosti. Zkrátka a dobře jsou to barvy z různých barevnic, a proto vzájemně nefungují. Navíc pro vás mám dobrou zprávu, rozlišovat barevné vlastnosti a kombinovat barvy se dá naučit. A abychom dnes začali, pojďme si tedy ukázat, jaké barvy společně fungují.
1.Pastely s pastely.
Růžové tričko bude vypadat dobře s kterýmkoliv z uvedených vrchních dílů. Výborně bude fungovat v kombinaci se spodním dílem v neutrální barvě a v pro vás vhodném tmavostním kontrastu. Na koláži níže je ukázka vysokého (s černou sukní) , středního (se středně tmavou šedou sukní) a nízkého (se světle šedou sukní) tmavostního kontrastu.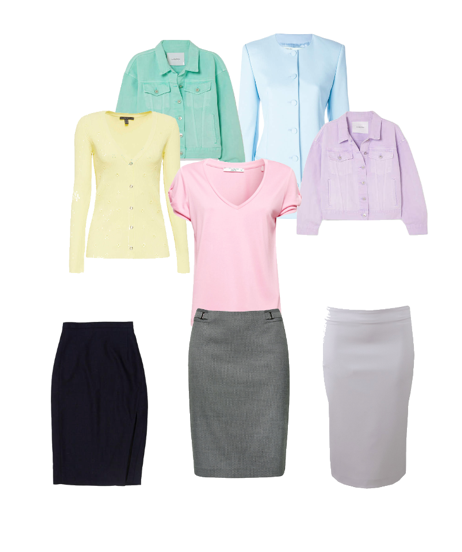 2. Jasné barvy budou vypadat výborně s dalšími jasnými barvami :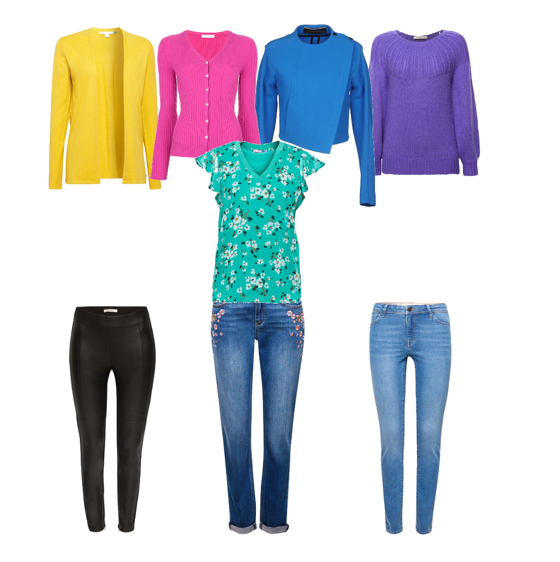 3. Barvy s podílem hnědé budou vypadat výborně s dalšími barvami, které v sobě také mají podíl hnědé.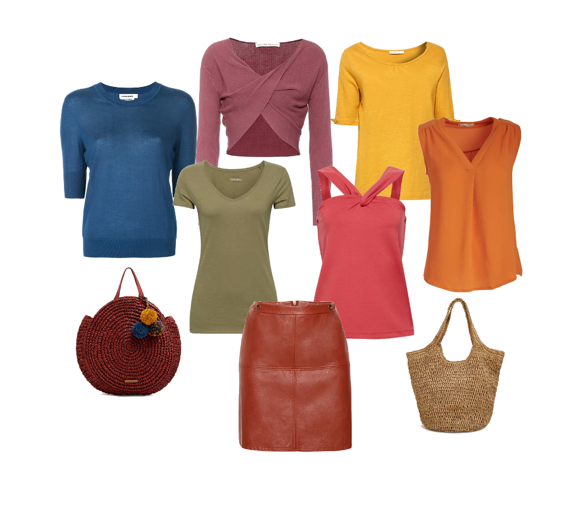 4. Tlumené barvy budou výborně fungovat s jinými tlumenými barvami. Důležité je samozřejmě jako vždy zhodnotit i vaši tmavost a barevnou teptotu.
Na následující koláži jsou outfity tvořeny světlými studenými tlumenými barvami. Tmavší kalhoty tvoří vyšší tmavostní kontrast, světlé kalhoty tvoří nižší tmavostní kontrast.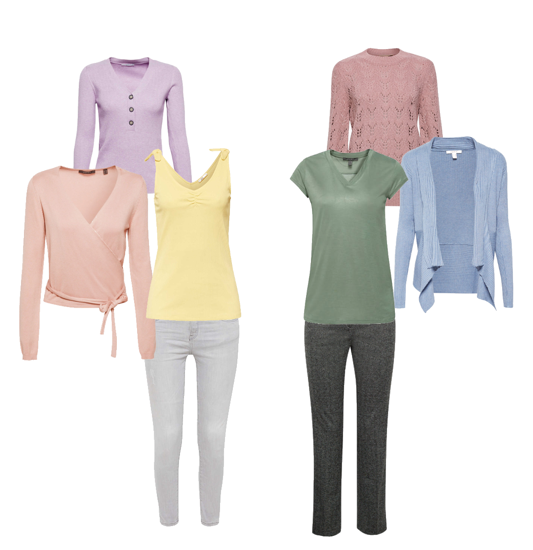 Poslední koláž ukazuje kombinace tmavých studených tlumených barev.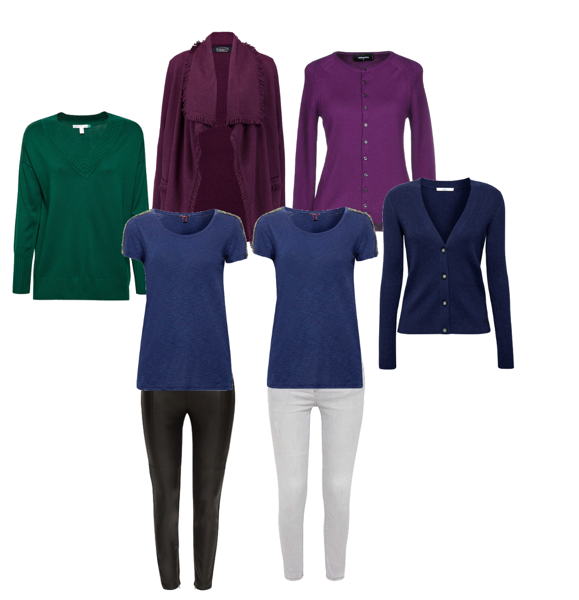 Pokud budete při výběru oblečení a jeho kombinování sahat po takových barvách, které mají stejné barevné vlastnosti, vytvoříte harmonický celek. Vynikající pomůckou je samozžejmě barevnice , kterou dostanete po konzultaci určení barevného typu. Pokud spoléháte jen sami na sebe, doporučuju se před nákupem vyfotit. Fotka prozradí víc, než zrcadlo. Fotku vnímáme objektivně, pohled do zrcadla je subjektivní.