Před pár dny jsme s Hankou dostaly následující dotaz:
"Prosím o radu. Potřebuji vhodné business oblečení na velkou poradu, kde budu prezentovat. Cca 40 lidí včetně nejvyšších manažerů zahraniční firmy. Jsem soft spring. Děkuji. "
Problémem světlé a teplé barevnosti vůči klasickým business barvám je ten, že bývají typicky tmavé a studené. Pokud si je obleče žena světlé a teplé barevnosti, bude v nich vypadat bledě a bez života, navíc jí budou přidávat roky navíc. Pro business styl je často typické kombinování tmavých a světlých barev a vysoký tmavostní kontrast. To je opět v rozporu s teplou a světlou barevností. Ženy spadající pod tyto typy mohou být i blondýny, které mají naopak nízký barevný kontrast.
Jaké je tedy řešení? 
Seriózní a autoritativní dojem zkuste vytvořit klasickým stylem oblečení a barvy zjemněte.
Na obrázku dole působí kombinace světlé sukně a broskvové halenky méně autoritativně, než když přidáme vínové sako. Vínový odstín sice nebývá pro světlé a teplé typy ideální barvou, ale pořád je v barevnici a ladí s nositelkou mnohem víc, než třeba černá či antracit.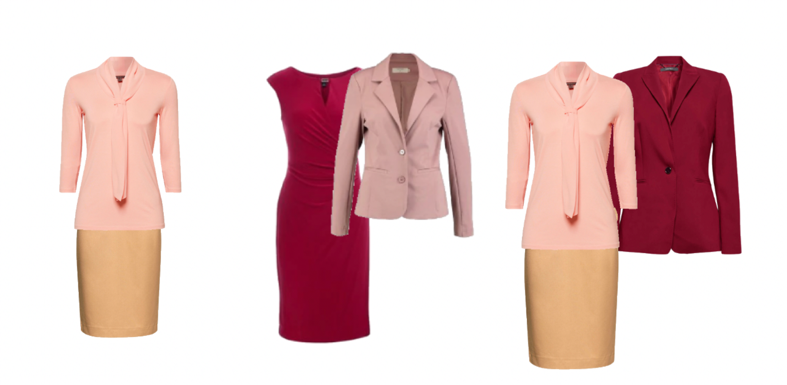 Pokud chcete působit jemnějším dojmem, přidejte ke kostýmku světlé a teplé barvy z vaší palety, jako je světlá broskovová či teplejší odstín světle růžové. Pokud chcete vypadat více autoritativně, sáhněte po teplé bílé či krémové.  Vždy si ale dávejte pozor, abyste outfit ladily maximálně do středního tmavostního kontrastu. 
Všechny modely z tohoto článku jsem vytvořila ze zboží, které je v současné době v prodeji a rozhodně se nejedná o cenově nedostupné modely. Dodávám to pro úplnost, jelikož jsem si všimla, že občas máme tendenci nadávat na to, že v obchodech nic není, nic se nedá v těch mých barvách sehnat atd.
Je sice pravda, že paletách těchto typů jsou ještě i zajímavější odstíny, ale víte jak to je. Bud můžeme spolu nadávat a nebo hledat řešení.