Doba dovolených je v plném proudu, a tak došlo i nás. Kufry už jsou skoro sbalené, děti natěšené, ale ani vás jsem nezapomněla. Přichystala jsem článek o tom, co jsou to ideální barvy a najde i užitečný tip na to, jak poznat 2 z nich i v případě, že jste ještě nebyly na testu vaší barevnosti, ale už jste intuitivně vytušily vaši barevnou teplotu. Další články můžete očekávat zhruba za 14 dní po mém návratu z dovolené.
Pro každého člověka můžeme najít zhruba 12 – 15 barev, které 100% souzní s jeho barevností. Jsou to barvy, ve kterých byste klidně mohly jít oblečené od hlavy až k patě a zářily byste. Najdeme mezi nimi jak barvy barevného kola, tak neutrální barvy. Jsou tedy vhodné jak k nákupu šatů, triček, plavek, či halenek, tak k nákupu bot, kabelek, sak či kabátů. Já tyto barvy nazývám ideální barvy a je to můj překlad anglického výrazu signature colours. Během každé konzultace určení barevného typu projdu s klientkou její barevnici a ideální barvy označím na zadní straně. Samozřejmě že i ostatní barvy z vaší barevnice můžete v klidu nosit, jsou taky vaše, ale v ideálních barvách budete zkrátka zářit.
Jak poznat alespoň 1 nebo 2 z oněch ideálních barev?
Výborným pomocníkem je barva, která se na vašem obličeji už někde vyskytuje, barva vašich očí. Hledejte barvu, která je co nejpodobnější barvě vašich očí. Nezapomeňte zohlednit jejich barevnou teplotu, tmavost a čistotu. Podívejte se na následující koláže. Nahoře vždy vidíte odstíny vhodné pro teplé typy a dole odstíny vhodné pro studené typy. Tímto způsobem byste měli být schopné odhadnout alespoň 1-2 z vašich ideálních barev i v případě, že jste ještě nebyly na barevném testu, zároveň jste ale intuitivně vypozorovaly svoji barevnou teplotu.
Hnědé oči :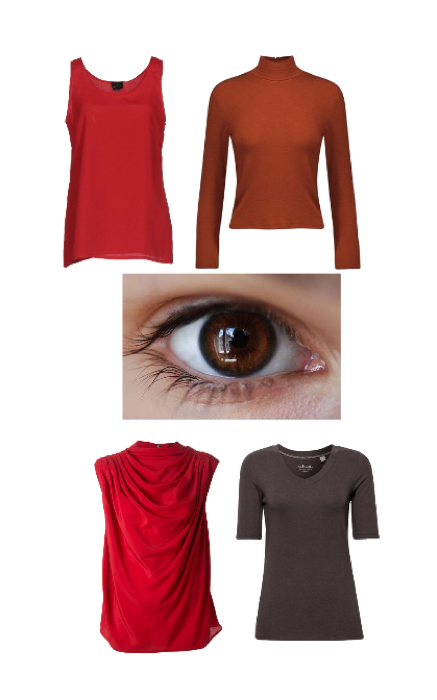 Zelené oči :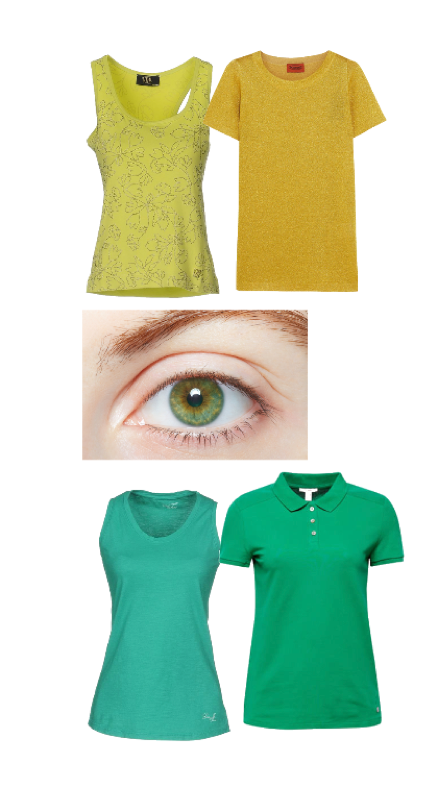 Modré oči :