Na nedávné konzultaci jsem dostala dotaz, který mě inspiroval k napsání dnešního článku. Představme si následující barevné schéma : Barevné kalhoty + neutrální (či monochromatické) tílko + další (odlišná) barva na doplňcích. Třeba takhle :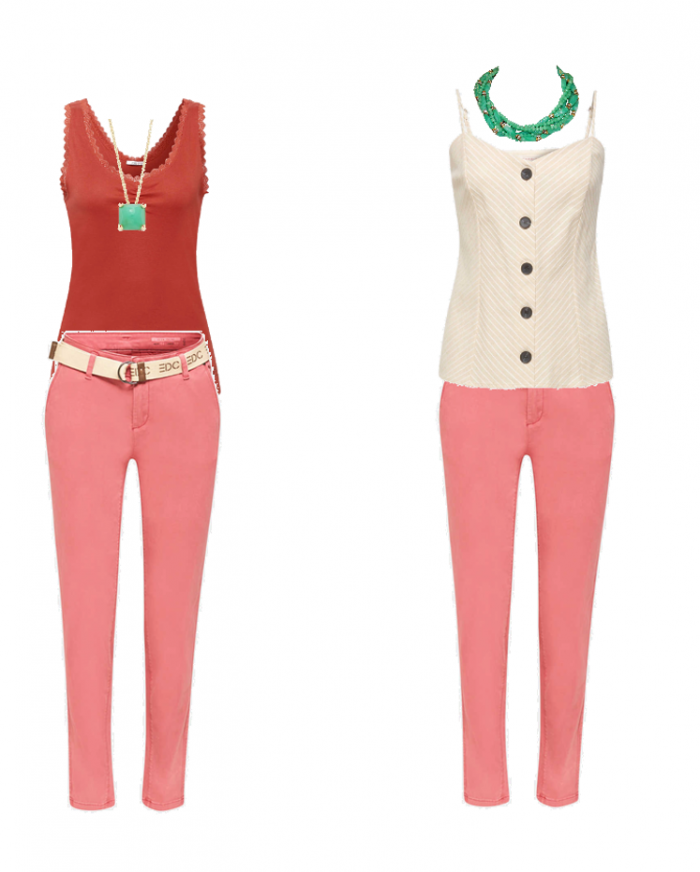 A teď dotaz : Jakou barvou cardiganu toto barevné schéma doplnit, když s neutrálem vypadá celý outfit najednou trochu nudně a s další barvou naopak vyvolává dojem papouška. (Mluvíme o ročním období, kdy si cardigan nesundáváme.)
Popisovaný problém pak může vypadat nějak takto :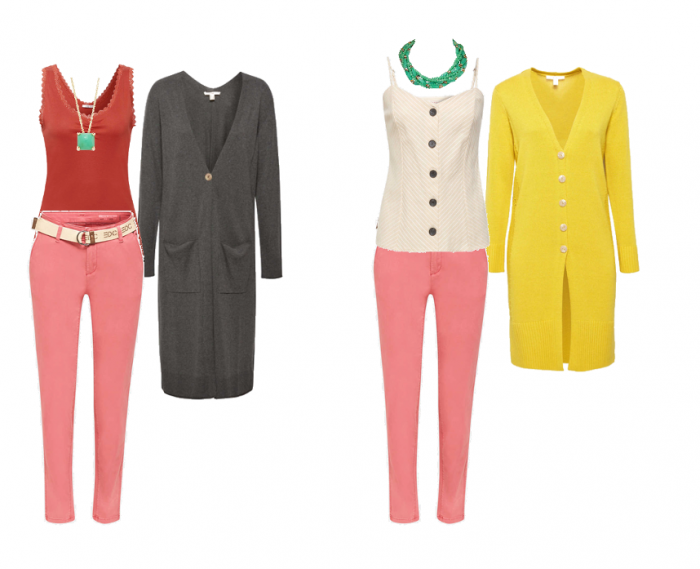 Obecně na těchto kolážích není nic špatného ( pokud mají tu správnou nositelku), ale je jedno jednoduché vysvětlení, proč takovéto barevné schéma mé klientce nesedělo. A tím je barevný kontrast. Má totiž barevný kontrast neutrál + 1. Pokud je neutrál + 1 též vašim ideálním schématem, pak je logické, že zelená + žlutá + lososová je na váš už prostě trochu moc. V takovém oblečení se pravděpodobně necítíte dobře, protože je zkrátka moc barevné.
Pokud ale sáhnete po cardiganu v neutrální barvě, také to není ono. Proč? Zkrátka proto, že vždy budete vypadat nejlépe v alespoň jedné barvě. A který oděv je v tomto případě rovnou u obličeje a v největším poměru vůči ostatním? Správně, právě cardigan. Barva cardiganu má v tomto případě přímý a největší vliv na vaši tvář a proto je lepší, vystavět celý outfit právě na vhodné barvě cardiganu (odpíchnout se od něj).
Jak?
Třeba takto : (a pro změnu si vezmeme jako ukázku koláže pro osobu se studenou barevností, at' je to vyvážené 🙂 )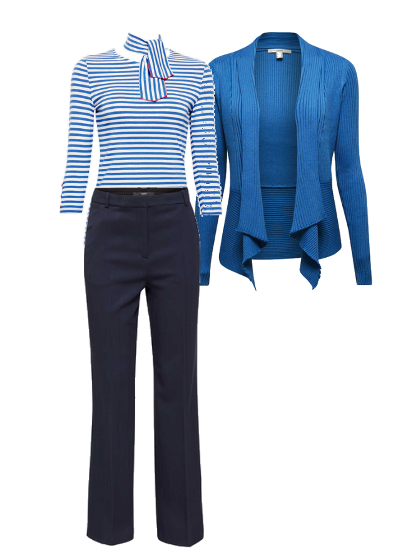 Dobře bude fungovat i schéma 2 neutrály + 1 barva. Pokud mají navíc halenka s cardiganem zajímavý střih, nemusíte řešit doplňky :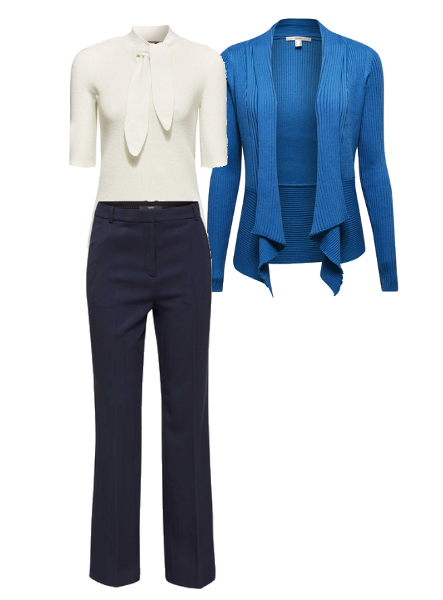 Pokud je vaše tričko obyčejné a rády nosíte doplňky, klidně můžete toto schéma obohatit o další barvu. Doplńky bych přidávala až v posledním kroku.