Kate Middleton vypadá dokonale téměř ve všem. Ok, možná se najde hnidopich, který by byl schopen toto tvrzení zpochybnit, ale myslím, že většina z nás se shodne na tom, že by jí slušel i pomyslný pytel od brambor. Čím to, když má postavu V a mnoho věcí, které nosí, by jí zkrátka a dobře slušet nemělo? Třeba trendy šaty s nabíranými rukávy ?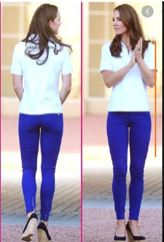 Odpověď je jednoduchá, není V jako V. Doporučení ohledně vhodných střihů pro jednotlivé typy postav jsou sestavena zejména pro ty, kdo mají skutečně výrazně viditelnou disproporci a v také pro ty ženy, kterým se širší ramena na nich samotných nelíbí. Pokud se jedná jen o mírnou disproporci – jako v případě Kate – a pokud ji sama žena jako vadu na kráse nevnímá, není zrovna úkolem konzultantky nový komplex během konzultace vytvořit. Zkrátka a dobře, doporučení ohledně vhodných střihů pro jednotlivé typy postav nejde nasadit plošně, i když uznávám, že by to podstatně zjednodušilo práci.
Proč jsem si jako příklad vybrala právě Kate? Protože právě na ni jsem se v zimě Imogen ptala. Zajímalo mě, co si myslí o Kate v kabátu Sentaler s výrazným límcem. Ptala jsem se proto, že jsem věděla, že podobný typ kabátu je pro postavy typu V nevhodný, kvůli tomu, že poutá pozornost na místo, které chceme upozadit a zároveň mu přidává na objemu.
Kate v něm vypadá výborně :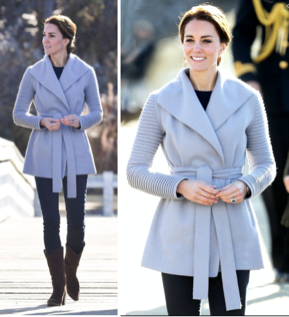 Imogen odpověděla v tom smyslu, že by podobný kabát pro postavu V obecně nedoporučila, ale že Kate je takové mírné V , skoro X a navíc, že má celkově dokonalou postavu, takže samozřejmě jí to sluší.
A já ještě dodávám, že díky tomu, že Kate vybrala střih, který jde stáhnout v pase, vytvořila tím v podstatě od pasu se rozšiřující siluetu, která je pro V naopak žádoucí. V kombinaci s definovaným pasem a štíhlou postavou Kate nikoho ani nenapadne, že má vlastně postavu typu V. Toto je další dobrý příklad, jak s pravidly a doporučeními pracovat. Když porušit jednu věc, je dobré zároveň se zamyslet nad tím, jestli nejde její negativní dopad ve stejném outfitu zmírnit. Hodně často to totiž jde a mně se tento přístup chytré horákyně velmi osvědčil.
Souhlasíte s tím, že pravidla mají smysl, ale nelze je aplikovat plošně ?